Digital culture of sharing - socio-ecological transformation potentials?
In: The Ecology of the Digital Society
Abstract
Within a few years, a colourful sharing landscape has developed. Sharing is the extended or more intensive use of products through swapping, giving away, reselling, lending, renting or co-using. This is made possible by online platforms that bring providers and consumers together. But how sustainable is the shared use of goods?
Authors
Behrendt, Siegfried; Henseling, Christine
Fields of research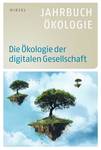 Source information
Title

Digital culture of sharing - socio-ecological transformation potentials?
Yearbook of Ecology
The ecology of the digital society
Year of publication
2019
Publisher
S.Hirzel Publishing House - Stuttgart
Document type
Contribution In